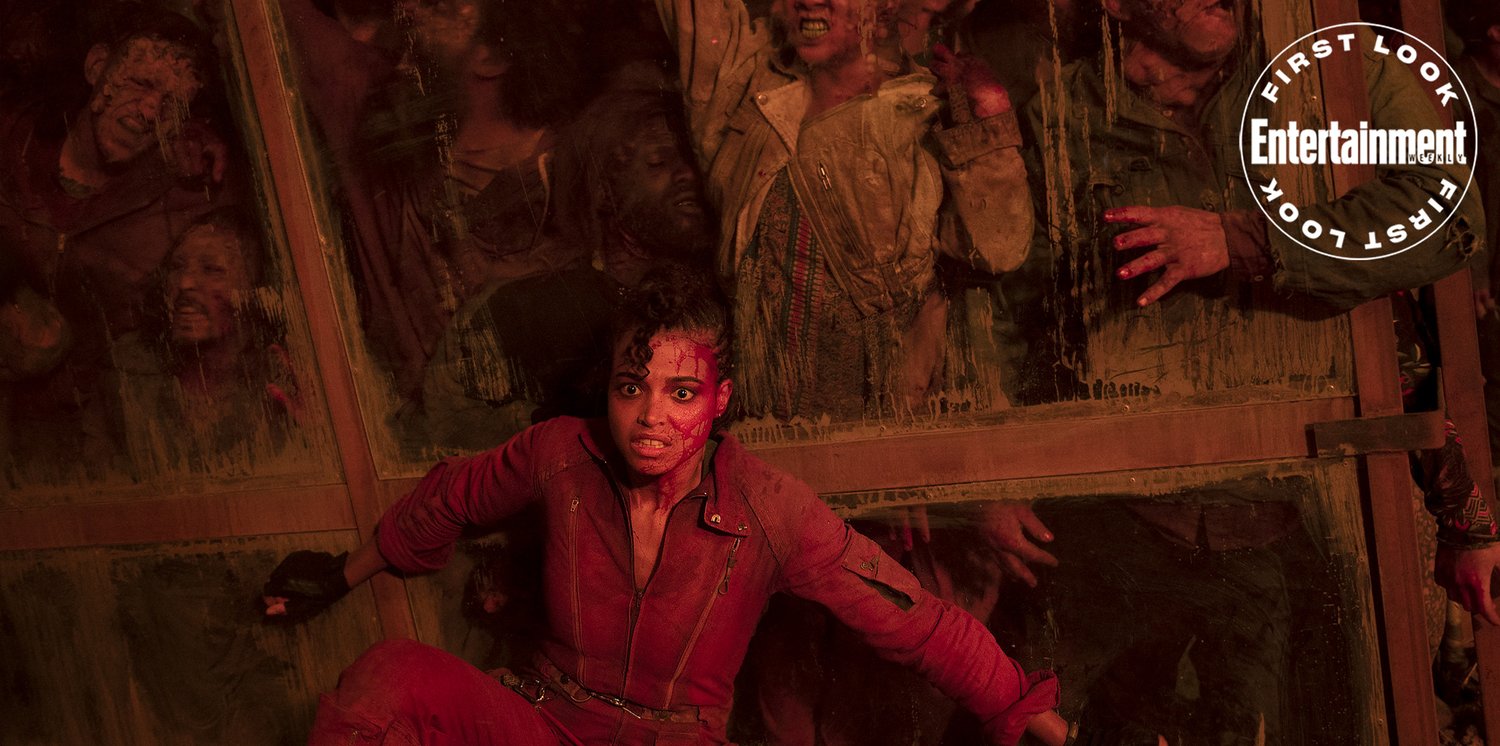 Netflix has produced a live-action series inspired by the hit zombie apocalypse horror video game franchise Resident Evil. The show will center on the children of Albert Wesker, who is portrayed in the series by Lance Reddick, specifically Jade Wesker.
The story is set 14 years after a worldwide apocalypse caused by a deadly virus in the year 2036, "14 years after a deadly virus caused a global apocalypse, Jade Wesker fights for survival in a world overrun by the blood-thirsty infected and insane creatures. In this absolute carnage, Jade is haunted by her past in New Raccoon City, by her father's chilling connections to the Umbrella Corporation but mostly by what happened to her sister, Billie."
We've got new photos to share with you from Entertainment Weekly along with new details. Showrunner Andrew Dabb says that he hopes the show feels like they took "all the games and shuffled them together." He also promises "a compelling jigsaw mystery stitched together over two timelines." One of those timelines ins set in 2036 setting, and the other goes back to the year 2022.
When talking about Jade Weslker (Ella Balinska) It's explained that "she is someone very much haunted by her past. She has a husband, Arj (Ahad Raza Mir), back home with their child, but she's consumed with the idea that she can somehow make things right. Dabb said:
"What popped into my head really early on was she's like Jane Goodall for zombies. She's studying them. She's trying to learn how they operate. This is a new organism. Our zombies are not the risen dead. They're infected by a virus. All of us have had a crash course in viruses the last few years. This virus changes. It evolves and it has its own agenda."
The report goes on to offer the following story details that set the stage for the show:
"We are now essentially 20-plus years from the first Raccoon City. Everyone knows it was destroyed in a very tragic incident, but very few people know exactly what happened, which makes sense, given that it was a bit of a cover-up in the U.S. government."

The nefarious Umbrella Corporation, the one that experimented with the T-virus and bioterrorism that created the zombified monsters in the first place, has now been reinvented by the new CEO, Evelyn Marcus (Paola Nuñez), daughter of Umbrella founder and virologist James Marcus. She's not a character that exists in the games, though Dabb notes, "There are some hints that she could, if you dig deep enough."

Since the bioweapon track didn't work out in Umbrella's favor, Evelyn has shifted their focus to consumer products, specifically a drug called Joy. This miracle med is designed to cure various forms of mental ailments, from depression to OCD. But patients should read the fine print, because the T-virus is included in the side effects. Dabb says one shouldn't assume that Joy is the sole cause of the zombie outbreak that takes hold of the globe. It's just one piece of the puzzle. "As we'll talk about in the show, you'd have to take a lot of Joy to become a zombie. A lot," he remarks. "But whenever you're messing with the T-virus, it usually never goes well."
There are also details on the 2022 setting of the series and the younger version of Jade and her sister Billie. Jade is described as "snarky and snappy, but at the same time, deep down, she is a person that takes things very seriously in a crisis. Because of how she was brought up, she put up a lot of walls. Jade is someone who walks around in a suit of armor."
As for her sister Billie (Siena Agudong), it's said that she's more vulnerable to the perils of teen social life. "You've got a character who is really caring and maybe a little less forthright than her sister, but also someone that's struggling with some of her own demons. This is a character that cares deeply about people and about animals. She's someone who is vegan and someone who supports PETA. She's the kind of person who doesn't step on an ant. She takes it outside."
Dabb goes on to talk about the two timelines and how they will be presented in the series:
"The hope is they build, one off the other. The idea is you'll see things in the future story line. You're like, 'Wait! How did that happen?' And then that episode, or a couple of episodes later, you'll get the answer. In some ways, the future story line itself is a mystery. How did people get here? How did these relationships change? And it's all explained, but it's explained in a way that we've jigsawed it together. If you're watching it, you'll be able to see how all the threads start to weave together as we move through the story."
We've already seen a teaser trailer for the series, but there's a full trailer coming next week on Money. So far, I like what I've seen and heard regarding the series, and I'm cautiously optimistic. I would love nothing more than for this to be a great show, but we'll have a better idea of what it's going to deliver when the next trailer is released.
Resident Evil is set to be released on July 14th.

Source : https://geektyrant.com/news/new-photos-and-details-for-netflixs-live-action-resident-evil-series