Bad Day at the Office
One of the brilliant things about Luther is that much of its horror plays out in everyday settings and otherwise "safe" spaces, ramping up the shock factor. One of the most terrifying examples of this comes in the latter half of series two, which sees our hero hunting down a pair of twin psychos who are playing a deadly, real-life RPG on the streets of London. 
The twins' quest for XP points sees them trying to one-up each other's body count, leading to a horrific set-piece that's guaranteed to give any 9 to 5er nightmares. One of the gamers brazenly walks into an inner-city office block, takes out a hammer and a water pistol full of acid, and proceeds to terrorise the unsuspecting workers. Chilling chaos ensues.
The Monster Under the Bed
Luther's third series opens with one of the most terrifying pre-credits scenes ever to grace British TV. A prelude to Luther's hunt for a copycat killer styling himself after the fictional "Shoreditch Creeper", the scene sees a woman come home alone to an empty house. She sits on her bed, contemplating things as her feet dangle over the side, before taking off her heels, getting ready and cosying in for the night. 
Once she's asleep under the covers, though, a creepy man dressed in black silently slithers out from under the bed. He stands over her, holding a wig. Her eyes open, then… cut to credits. The scene, which reportedly drew complaints from some traumatised viewers, sent out the message early on that series three did not come to play. It also provided a compelling argument for why you should always opt for a divan bed base.
Ripley Meets his Maker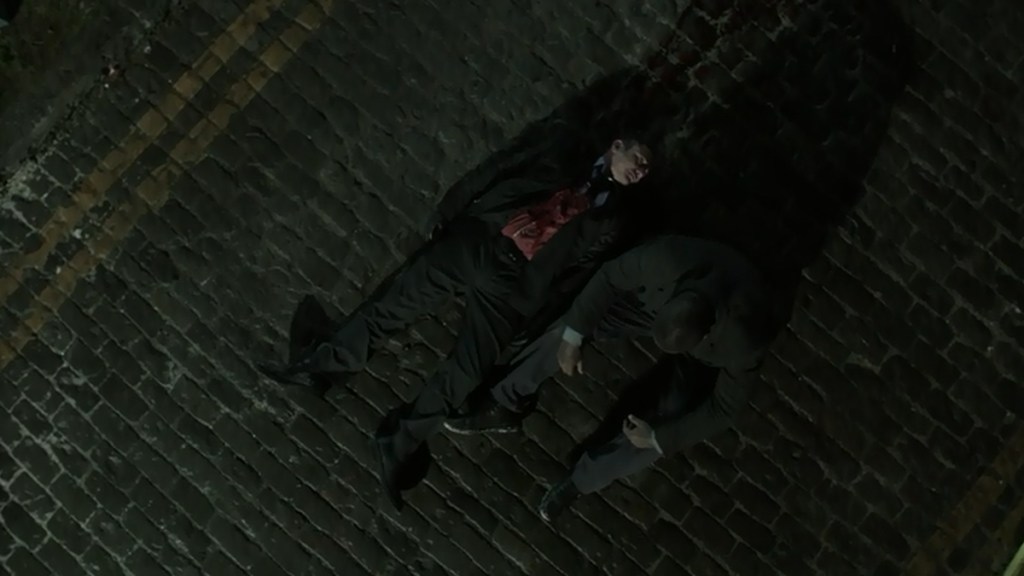 Series 3 sees the relationship between Luther and his partner DS Justin Ripley (Warren Brown) strained when our hero's shaky moral past threatens to come back to haunt him. But by the latter half of the season, Justin has proven his loyalty to his mentor, and things are starting to look up. That is, until, the rookie detective goes in pursuit of violent vigilante Tom Marwood (Elliot Cowan) on his own. 
Having cornered his perp, Ripley tries to reason with Marwood, but he's slipped too far into the dark side. "I don't think you're going to shoot me," Ripley says gently, before Marwood unloads his shotgun into the young DS's chest, sending him flying backwards. By the time Luther arrives on the scene, Marwood has scarpered, leaving him with nothing to do but cradle his fallen friend.

Source : https://www.denofgeek.com/tv/luther-most-shocking-moments/