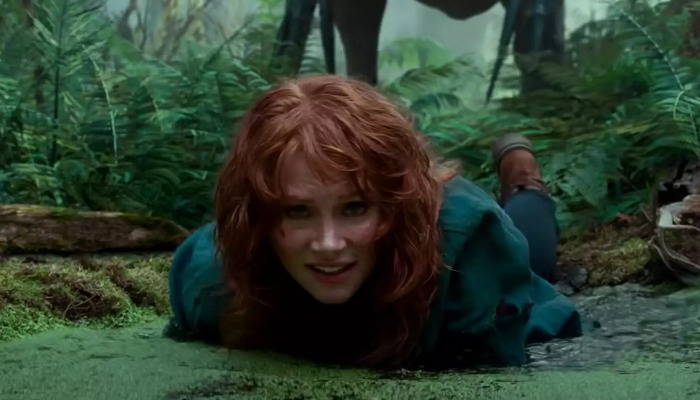 Jurassic World Dominion Review
Jurassic World Dominion (2022) Film Review, a movie directed by Colin Trevorrow, written by Emily Carmichael, Colin Trevorrow and Derek Connolly and starring Chris Pratt, Bryce Dallas Howard, Laura Dern, Sam Neill, Jeff Goldblum, DeWanda Wise, Mamoudou Athie, Isabella Sermon, Campbell Scott, BD Wong, Omar Sy, Justice Smith, Daniella Pineda, Scott Haze, Dichen Lachman, Kristoffer Polaha, Caleb Hearon and Freya Parker.
It's OK to enjoy a movie while watching it and then realize that it didn't achieve its full potential afterwards. Jurassic World Dominion is just that type of movie. It must be said that this film has at least three terrific scenes but, unfortunately, a lot of unnecessary time filler in between them. Still, you must appreciate a movie that has this level of expertise regarding the staging of its action sequences. It also doesn't hurt that the cast successfully reunites stars from the 1993 picture Jurassic Park with the newer cast members of the later Jurassic pictures.
Advertisement
Owen Grady (Chris Pratt) and Claire Dearing (Bryce Dallas Howard) are featured in director Colin Trevorrow's newest sequel and though they are as likable as ever here, it never feels their characters are all that complex and that's OK. These two stars developed their characters in the earlier pictures and, this time, it's the dinosaurs' turn to rule the roost. I particularly enjoyed Blue, the sweet Velociraptor whose child dinosaur is kidnapped alongside the young and wise Maisie Lockwood (Isabella Sermon). This kidnapping propels the action of the film's plot forward.
Laura Dern, Sam Neill and Jeff Goldblum are back from the 1993 original movie. Goldblum's Ian Malcolm has five kids now and is writing books to help pay the bills but when he is reunited with aging would-be lovers Ellie Sattler (Dern) and Alan Grant (Neill), Ian tells his fans they'll have to catch him later to get an autograph. These characters become intertwined with the story line as Ellie and Alan must try to sneak into  a bioengineering company/lab called Biosyn run by the villain of the film, Lewis Dodgson (Campbell Scott), in order to get their hands on some valuable DNA for scientific purposes.
Some great action scenes ensue as the plot develops. One comes when Owen must get onto a plane being flown by the energetic Kayla Watts (DeWanda Wise) that has Claire on it as well. A dinosaur is in hot pursuit and this sequence plays out terrifically followed by a scene later on where Claire is thrown off the plane with a parachute and ends up getting herself involved with some not so friendly dinosaurs as a result. A part where Claire is under water while a nice sized dinosaur is above her is nicely done through a half dinosaur/half Claire underwater shot. There is also an earlier confrontation with villain Soyona Santos (Dichen Lachman) that maintains viewer interest.
Perhaps the best scene in the film comes on the ice as Owen and Kayla run through some icy sheets while in hot pursuit by a hungry creature. DeWanda Wise is actually a pretty charismatic actress and her scenes with Pratt are crowd pleasing and wonderfully done. Bryce Dallas Howard does a decent job keeping Claire a relevant part of the plot as she tries her best to locate Maisie. Pratt, Howard and Wise are the movie's most valuable players whether their characters are fully developed or not. Isabella Sermon is a bright up and comer as well.
Campbell Scott plays a solid villain. Scott's performance is believably rendered and the audience will be happy to eagerly await the scene where Lewis will get his just desserts at the end. BD Wong, always reliable, holds his own beside the talented cast in his familiar but pivotal role as Dr. Henry Wu. As a key character called Ramsay Cole, Mamoudou Athie shines as well adding a very distinct personality to his supporting role in the movie.
Dern and Neill create on screen chemistry together although they're pretty much in this movie just for old times sake. Goldblum steals a few scenes which he is welcomed to do although I would be surprised if any of his dialogue was in the actual screenplay. He seems to be making clever one-liners up as he goes along but the wisecracks add much needed comic relief.
This movie showcases the idea of co-existing with dinosaurs and all other forms of life as well. Jurassic World Dominion does this in such a way that it feels a bit lacking in terms of depth. It seems unlikely that dinosaurs could exist in a way where they eventually do in this film but it's a science fiction established franchise originated by Steven Spielberg so you accept its themes, however ridiculous they may come across on screen.
There are a few other flaws in the new movie from its lengthy running time which makes the movie go on way past its welcome to the lack of development the main characters have. This is a pretty bare bones script that is made worth seeing by the action scenes which keep you cheering even if there's not much doubt about where the plot is ultimately headed. There may be a surprise here and there but nothing out of this world really happens. This movie exists for its well orchestrated action sequences.
Jurassic World Dominion proves the third time isn't quite the charm with these sequels. Jurassic Park III was the lesser of the first set of films and this new movie is the lesser of the second set. That being said, Jurassic World Dominion is a Hollywood blockbuster that ensures you get your money's worth in terms of daring escapes and solid action scenes. It's passable enough entertainment to keep the franchise alive for sure, though.
Rating: 7/10
Leave your thoughts on this Jurassic World Dominion review and the film below in the comments section. Readers seeking to support this type of content can visit our Patreon Page and become one of FilmBook's patrons. Readers seeking more film reviews can visit our Movie Review Page, our Movie Review Twitter Page, and our Movie Review Facebook Page. Want up-to-the-minute notifications? FilmBook staff members publish articles by Email, Twitter, Facebook, Instagram, Tumblr, Pinterest, and Flipboard.



Source : https://film-book.com/film-review-jurassic-world-dominion-2022-a-roller-coaster-ride-with-lots-of-thrills-though-it-feels-like-something-is-missing/