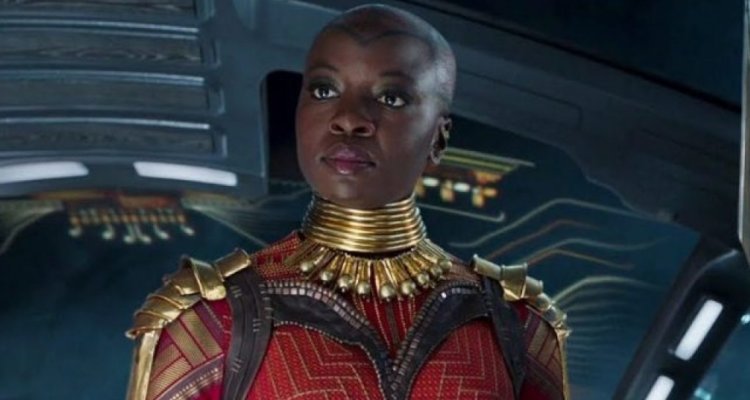 It was two years ago that we first reported that Black Panther star Danai Gurira was set to reprise her role as Okoye in a spinoff series centered on her character, the general of the Dora Milaje in Wakanda. Things have been fairly quiet since then, aside from earlier this year when Gurira made an appearance on The Late Show With Stephen Colbert in January. She was asked about the project, and she responded:
"I have been told that I can gently allude to this possibility. So, I am gently alluding, just gently."
Colbert teasingly replied, "You gently alluding is the Marvel version of a full monty. I can't believe I got anything out of you."
She kept with the same tone of gentle alluding when on the red carpet this past Sunday at the Oscar's when she was asked again about the state of the series, telling ET:
"I've been told I can speak of it vaguely. So, I will vaguely respond. However, I guess the idea behind the story like that, if one were to exist, would be to explore the character in ways that we haven't done yet. But who knows?"
So it sounds like things are underway, especially if they're letting her say anything about it at all. It's just moving pretty slowly!
At the end of the Black Panther sequel, Wakanda Forever, Okoye was dismissed from the Dora after failing to protect Shuri (Letitia Wright) from Namor (Tenoch Huerta Mejía) and the Talokan warriors.
Devastated by the rejection, Okoye returned for the film's final battle in a new super suit created by Shuri, officially bringing the Midnight Angels from the comic canon to the big screen — leading many to speculate that the new series could focus on Okoye's new adventures with the elite group of warriors.
I think there are a lot of cool directions the series can be taken, and I'm excited to watch it. Gurira is an amazing actress, and the character Okoye is a total badass. I can't wait to see where she takes us.

Source : https://geektyrant.com/news/danai-gurira-once-again-teases-black-panther-spin-off-series-centered-on-her-character-okoye