Marius Anderson directs the intensely titled 40 Below: The Toughest Race In The World. The documentary is about the ultramarathon known as Arrowhead 135. The 135-mile course runs from International Falls, Minnesota, to Tower, Minnesota. It is the coldest and harshest trail any extreme endurance racer can undertake in the United States. There are only three aid stations on the route… each one with a cut-off time. The question audience members must be asking is, "Why would anyone do this to themselves for a race in the dead of winter in the coldest part of the land?"
Under these conditions, the bravest and toughest (or is it most foolhardy?) compete to complete the nigh impossible route. "Epic" Bill Bradley has attempted the course several times and has never finished. This man has conquered several Iron Man races and other body-pushing/punishing races. Will he ever get to complete Arrowhead?
Geologist Leah Gruhn's first Arrowhead attempt was on skis. That ended disastrously. Now, she bikes it and does so to know she can overcome just about anything life throws her way. Once the race starts, generally on the coldest day of January, other competitors are introduced. Some have traveled the world over to take on the grueling challenge, braving frostbite, starvation, and worse just to say they made it. Does Bill finish this time? Who turns back before the weather takes their extremities?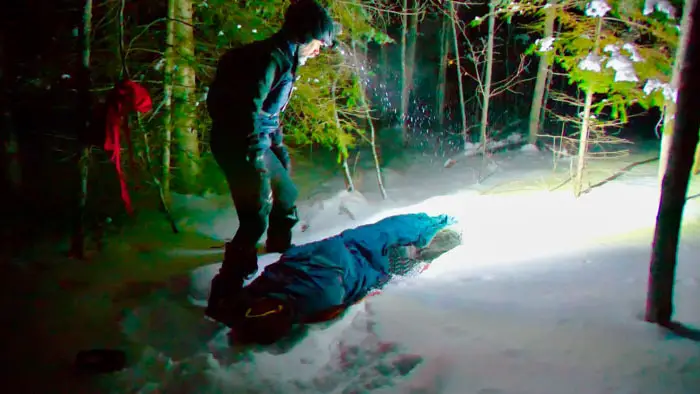 "… the coldest and harshest trail any extreme endurance racer can undertake…"
40 Below: The Toughest Race In The World follows seemingly sane people doing something that seems insane. But for these racers, it is a matter of proof that they are alive, that they can overcome their fears, and that they can handle even worse than they imagined. To that end, the film succeeds. One racer couldn't warm up after leaving a checkpoint, so she turned back around and called it quits. Surprisingly, she's upbeat about it, happy to have gone as far as she did and to still have her fingers. True heartbreak comes when a lady from overseas is forced to drop out. She's disheartened, despondent even. She knows it is for the best, but she is still let down, mainly by herself. It is enough to bring tears to one's eyes.
At slightly over 90 minutes, the film does move at a quick pace. Yes, some scenes might last a little too long or feel unnecessary. For example, some racers come upon an aid tent offering warm water and a tent to escape the wind for a moment. One of the competitors asks if there is or isn't a heater in the tent. It just feels out of place and awkward. Still, most sequences work, in large part due to the cinematography. The camera captures the snow-laden land lushly while every ounce of snow and frost on the racers is seen in crystal clarity. It is these visuals that really hammed home how arduous the trek is. The uplifting feeling the racers feel when they get across the finish line is shared by the viewers.
40 Below: The Toughest Race In The World might present madness in its purest form. But it also shows humans' dogged determination and resilience. The main subjects are engaging, and their reasons for undertaking Arrowhead 135 make sense. Audiences will feel for these people at their most raw and vulnerable.

Source : https://filmthreat.com/reviews/40-below-the-toughest-race-in-the-world/